Creating tags by dragging on the timelines produces tags which are accurate to a second. Some users like to manually enter tags which are always rounded to half an hour for example. What we like to suggest, is that you keep tags accurate to a second, then round them on export. This way it is much easier to enter tags and your reports will be as accurate as they can be.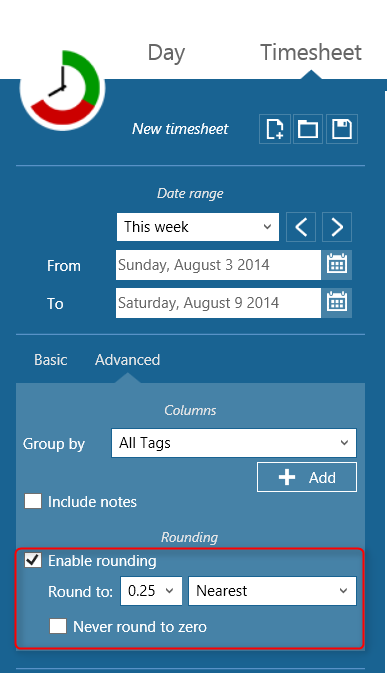 To round values in the timesheet, check Enable rounding. There are two settings, the value you want to round to and how ManicTime performs the rounding:
Nearest - each value in the timesheet will be rounded to the nearest value
Top - each value will be rounded to top
Bottom - each value will be rounded to bottom
Keep same total - If the original sum for example is 154.56, ManicTime will try to manipulate the data so that the total will be around 155. Usually this has very similar results as Nearest option
Never round to zero option
Use this option if you always want to bill the minimum amount. Below you can see the difference if rounding is set to one hour.

| Tag | Rounding disabled | Round to nearest | Round to nearest with Never round to zero |
| --- | --- | --- | --- |
| Client 1 | 0.07h | 0h | 1h |
| Client 2 | 1.25h | 1h | 1h |
| Client 3 | 1.75h | 2h | 2h |