Time is marked as Away when:
computer is not used for 10 minutes - if you are not using a computer for more then 10 minutes (not moving mouse or typing on the keyboard) Away time is triggered
screen saver is active - Away time is triggered when screen saver is activated
We recommend you use the first option since "screen saver" method can be unreliable. 
Treat sound as active - Away time tracking can be problematic for users who watch a lot of video. The problem is that while watching a video, there is no input from the user so ManicTime tracks that time as Away. When checked, Away time will only be triggered when there is no sound.
Track window titles and documents - When unchecked Manictime will only track which applications you are using, but not what was in the title of the window. Document timeline will also be empty.
Track private browsing - Privacy mode or "private browsing" or "incognito mode" is a privacy feature in some web browsers to disable browsing history and the web cache. ManicTime will try to figure out if you are using private browsing and it will not track the usage if this is unchecked. We test private browsing in Firefox, Chrome, Opera and IE. Other browsers might work, but are not officially supported.
Tracking schedule - By default, ManicTime will track usage all the time. This option allows you to restrict ManicTime tracking to specific hours.
Do not track all... - You can set ManicTime to not track specific applications, web sites or documents. You can also set it to stop tracking when specific word is in title.
Minimum tracking activity duration
By default, ManicTime tracks applications, which are in use for more than 5 seconds. So if you quickly switch to one application and back to the previous one, ManicTime will not pick this up. Extending this  interval means that the captured data is not as accurate, but ManicTime generates less of it.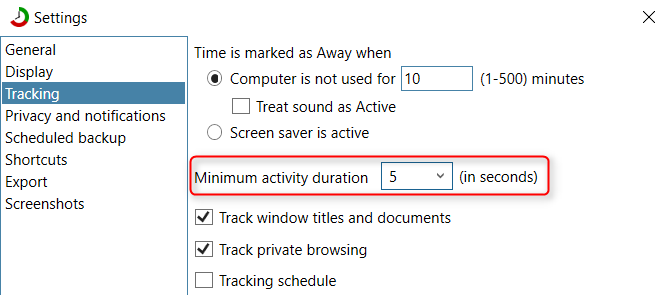 Minimum tracking activity duration